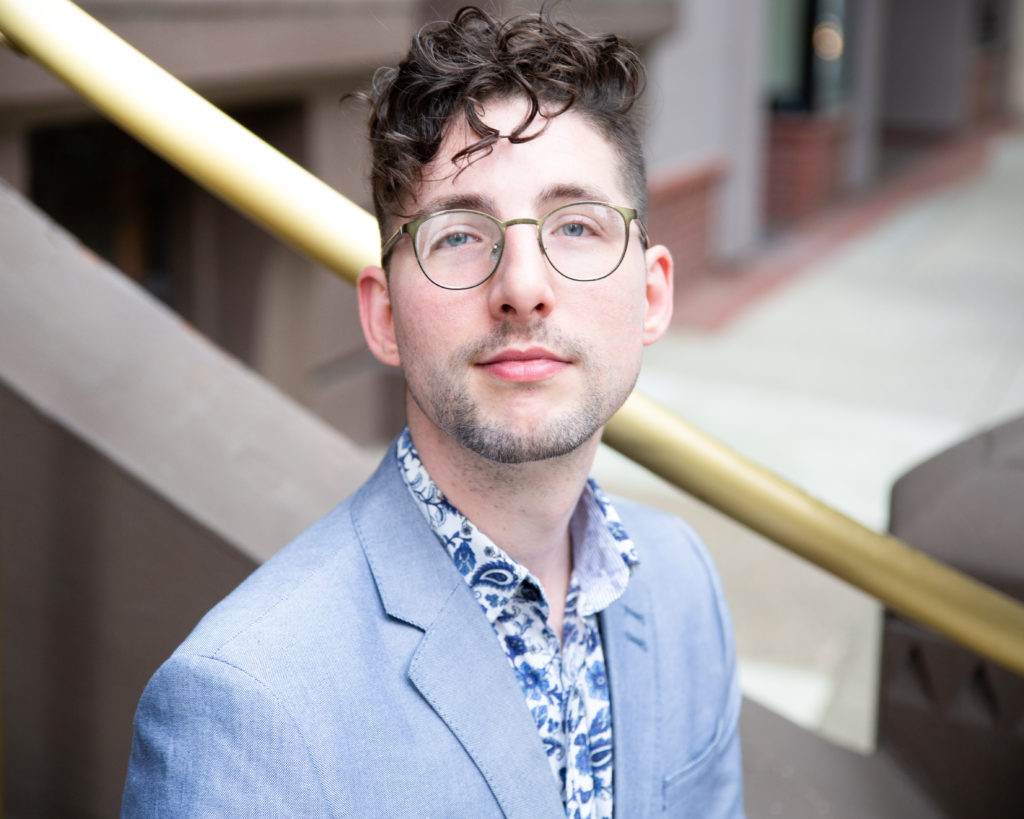 Cory Davis
Pronouns: He/Him
Artistic Director
Cory Davis is a conductor, pianist, tenor, and nonprofit professional. He relocated to Charlotte from Philadelphia in 2019 to serve as the Artistic Director for One Voice Chorus and the chamber ensemble, Chroma.
Cory is currently pursuing his DMA in Choral Conducting from the University of North Carolina at Greensboro. He holds a BA from George Washington University and an MM in Choral Conducting from Temple University where he was the recipient of the Elaine Brown Tribute Award, given to a choral conducting student who most reflects the musicianship, dedication to excellence, and humanitarianism that distinguished her career. His primary conducting teachers were Paul Rardin, Mitos Andaya Hart, and Rollo Dilworth, and he has also participated in master classes with Alice Parker, Andre Thomas, John Alexander, Rob Istad, Duain Wolfe, and David Hayes.
While in Philly, Cory was the Music Director at Marple Christian Church, Assistant Conductor of Voices Chorale New Jersey, Conducting Intern for Philadelphia Voices of Pride, and Development Associate at Project HOME, an organization dedicated to eradicating street homelessness in Philadelphia. Cory also lived in Washington, DC, for twelve years, where he was the Music Director of the Gaithersburg Chorus, Assistant Director for the Washington Men's Camerata, and Development Manager at Chorus America, the national service organization for choruses. He previously worked at Washington Concert Opera, and Castleton Festival, Maestro Lorin Maazel's summer opera festival.
---
Adam Ward
Pronouns: He/Him
Principal Accompanist
Adam Micah Ward is the Director of Music Ministries at Providence United Methodist Church in Charlotte, North Carolina. At the church he leads a multi-faceted music ministry that includes four staff, ten choirs and countless volunteers. Since coming to Providence, he has overseen the purchase and installation of Aeolian-Skinner Opus 1472 in the church's worship space; and, in the summer of 2018, he conducted members of the church's Chancel Choir on an eleven-day performance tour of Prague, Vienna and Salzburg.Receiving the Doctor of Musical Arts, Master of Music, and Bachelor of Music degrees in Organ Performance from the University of North Carolina at Greensboro, Adam also studied piano, harpsichord, voice and choral conducting at the University. During his time at the University, he accompanied the University Chorale, the University Men's Glee Club, and was an adjunct lecturer in organ. He is in demand as a performer, clinician and collaborative artist.
Ward is a Past Dean of the Charlotte Chapter of the American Guild of Organists and North Carolina District Convener of the same organization. His recording "For the Beauty of the Earth" has been featured on the Nationally syndicated radio broadcast "PipeDreams". He has performed throughout the Eastern United States as well as multiple performances in the United Kingdom and Italy.
Most importantly, Adam is the proud father of his son, Benjamin.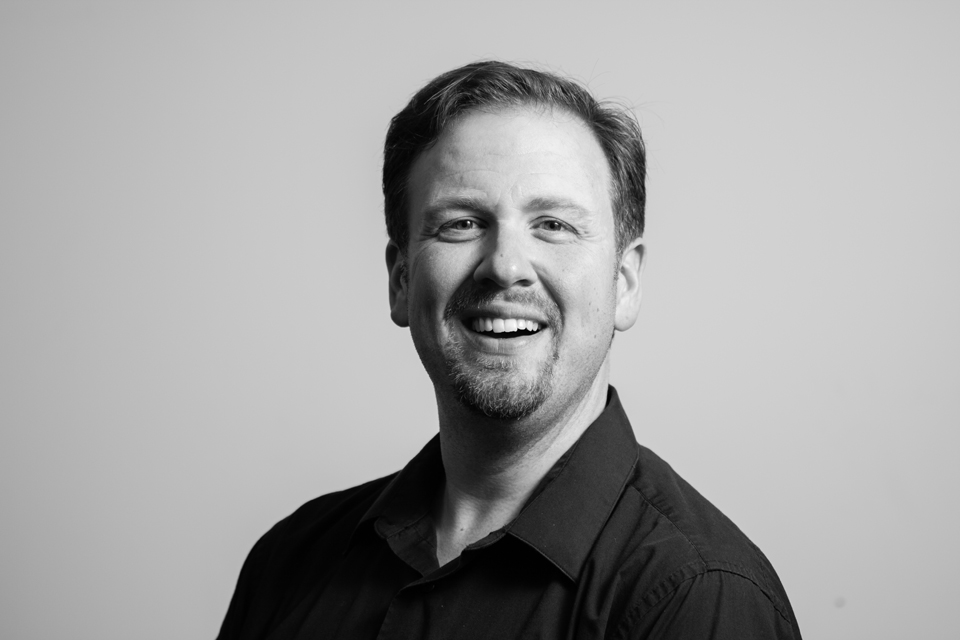 ---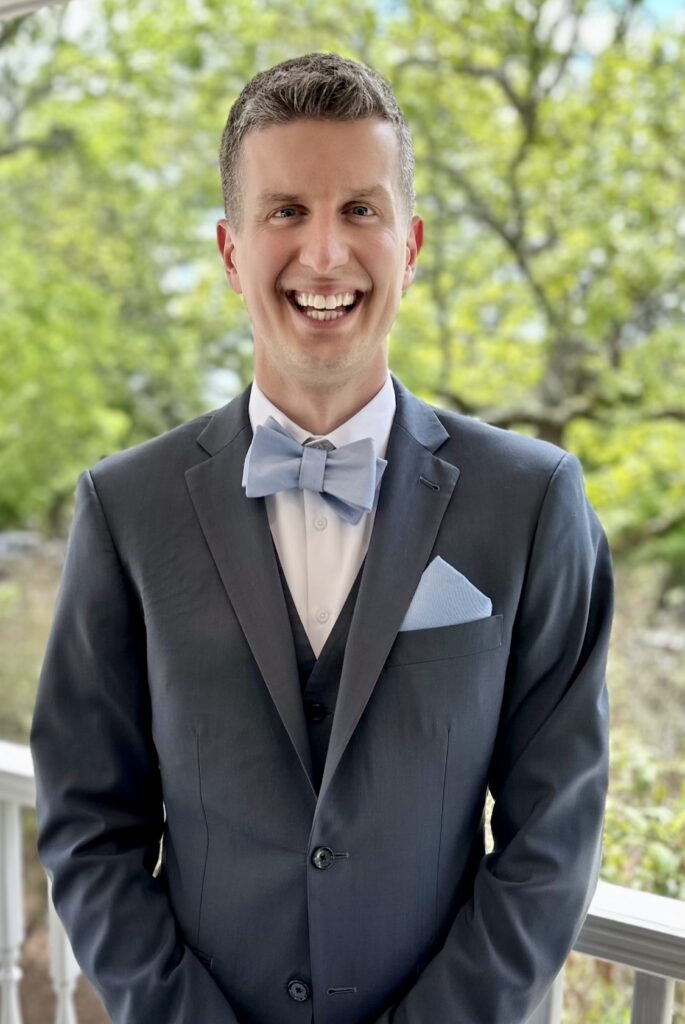 Micah Deer
Pronouns: He/Him
Executive Director
Micah Deer is thrilled to serve on the One Voice Chorus team as its inaugural Executive Director. Originally from Ohio, he received his BFA from Ohio Northern University and later his MAED from Michigan State University. His professional career has taken him across the country to various regional theaters and even abroad to South Korea, where he created ESL programs for students of all ages at the Gyeonggi English Village. Since moving to Charlotte over seven years ago, he has become well acquainted with the Charlotte arts community through administrative roles at Children's Theatre of Charlotte, Ballantyne Arts Center, and his current role at Blumenthal Performing Arts on the Education team.
His goals now and throughout these experiences remain the same: creating or developing opportunities that increase arts exposure, instill empathy, and unify our community. As someone who discovered his own identity through an accepting, affirming community chorus years ago while in high school, he is thrilled to now serve as a leader and advocate for OVC here in Charlotte. There is much to do in shaping our city into an inclusive arts beacon in the south, and he is proud to represent the LGBTQ+ community as we work towards an innovative, equitable future.
Outside of work, Micah loves spending time with his husband, Cody, and their favorite mutt Snoopy. Though a transplant, he has known for years that he can definitively call Charlotte home and can't wait to continue to explore and create opportunities within our amazing city.
---