Who's the best LGBT arts organization in Charlotte? According to the recently published "QList: Best of LGBT Charlotte," we are!
qnotes, the LGBT arts, entertainment and news publication of the Carolinas, has been producing the QList since 2009. Says qnotes Editor Matt Comer, "We started it when we realized there really was no LGBT-specific way for LGBT and straight ally community members to vote on their favorite, best and most LGBT-friendly establishments, leaders and non-profits." Matt continues, "Creative Loafing has always done a phenomenal job of including the LGBT community in their 'Best of Charlotte,' but we thought the community could use something unique to itself."
Interests broadening within Charlotte's LGBT community
qnotes's instincts were right. Hundreds of people participate in QList voting, and each year participation grows. So do the number of organizations, establishments and people that participants submit as favorites—a trend that suggests broadening interests in Charlotte's LGBT community. Take, for example, this year's submissions for the category One Voice topped: Best LGBT Arts Organization. Nine different organizations were represented among the voter's submissions, including Charlotte Pride Band, Gay Charlotte Film Festival, Gay Men's Chorus of Charlotte, Queen City Theatre Company, StillOut LGBT Photography Club and LGBT-friendly organizations such as Actors Theatre, Theatre Charlotte and Triptych Collective. And of course One Voice Chorus!
Says Matt, "We were really proud to see that every LGBT arts group—and several LGBT-inclusive/friendly groups—in the city was represented by voters this year."
Participants also submitted their favorites in categories such as Best LGBT-Affirming Faith Institution (Holy Covenant United Church of Christ, Best Openly LGBT or LGBT-friendly Politician/Elected Official (Charlotte City Councilmember LaWana Mayfield), Best LGBT Bar/Club (Cathode Azure), Best Drag Performer (Roxy C Moorecox) and more.
What's next?
Does qnotes have anything new in store for next year's QList? According to Matt, "We've shied away from having a 'Critic's Pick' for each category. . . We may include a type of critic's panel comprised of staff and community contributors for additional new and funky categories next year."
No matter what's in store for next year's QList, we hope that One Voice is on it again! Thank you to everyone who voted for us this year.
Check out this year's QList… and while you're at it, take a look at all the LGBT news that qnotes does such a great job of covering. | QList: Best of LGBT Charlotte – 2013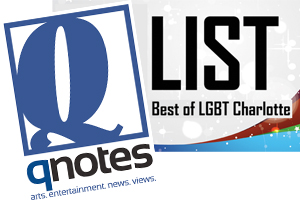 CHECK THIS OUT! This story is just one of several that will be featured in the next issue of our e-publication CommunityNotes from One Voice, coming out next week! Sign up now and we'll deliver a copy to your inbox. (Like magic, only more newsy.)